Services
Our versatile services encompass all phases of product development, in order to provide you better support throughout the process.
Design & Build
See your vision come to life, or let us design for your needs, with our comprehensive design and build solutions. Enjoy a complimentary one-on-one consultation.
Project Management
With start-to-finish management services, we oversee outsourcing, bidding, and manufacturing progress to meet your required quality, budget, and time line.
Engineering Consultation
Our experts will perform a full constructibility review of your documentation, material choices, and manufacturing specifications.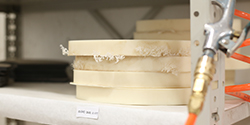 Batch Manufacturing
Select the intervals you wish your product to be manufactured and we will facilitate its' production. We machine most wood, metal, and plastic materials in-house.